गणेश मंत्र (16 प्रसिद्ध मंत्र) 2021 के लिए – Bhagwan Shri "Ganesh Mantra" को आप गणेश चतुर्थी पे ही नहीं, बल्कि Ganpati mantra रोज़ भी पढ़ सकते हैं. 
गणेश मंत्र या गणपति मंत्र बहुत ही फल दायी और शक्ति शाली है जिसका नित्य पाठ करके निश्चित ही आप भगवन गणेश जी कृपा पाएंगे . यह तो आज सभी जानते हैं के श्री भगवान गणपति धन-संपत्ति देने वाले हैं. उनका मंत्र जाप और श्रद्धा से पूजा निश्चित ही आपको अच्छा फल देगा। भगवन गणपति विघ्नहर्ता हैं और विद्यादाता भी हैं. 
Ganesh Mantra or Ganpati Mantra is not only meant for Ganesh Chaturthi but you can chant these mantras everyday. Lord Ganesh is son of Lord Shiva and Parvati and is worshiped in the beginning of every auspicious occasion. Lets read the latest collection of Lord Ganesh's Powerful Mantras for peace, health, wealth and prosperity in your life as per hindu mythology and beliefs.
Hanumanjichalisa.com is dedicated to Hindu Mythology and collection of all Bhajans, Mantras, Chalisa and Paths of Hindu Gods like Ganesh Ji, Ram, Hanuman, Vishnu, Shankar, Devis and Devtas.
16 Ganesh Mantra in Hindi to Please Lord Ganpati - गणेश मंत्र जाप
1. वक्रतुण्ड महाकाय सुर्यकोटि समप्रभ निर्विघ्नं कुरु मे देव सर्वकार्येषु सर्वदा .
2. ॐ एकदन्ताय विद्धमहे वक्रतुण्डाय धीमहि तन्नो दन्ति प्रचोदयात् .
3. ॐ लम्बोदराय नमः .
4. ऊँ गं गणपतये नम: .
5. ऊँ श्री गणेशाय नम: .
6. ऊँ नमो भगवते गजाननाय . 
ऊँ वक्रतुण्डाय हुम् .
7. ॐ नमो सिद्धि विनायकाय सर्व कार्य कर्त्रे सर्व विघ्न प्रशमनाय सर्व राज्य वश्यकरणाय सर्वजन सर्वस्त्री पुरुष आकर्षणाय श्रीं ॐ स्वाहा ॥
8. ऊँ हीं श्रीं क्लीं गौं ग: श्रीन्महागणधिपतये नम:। ऊँ । 
9. हीं श्रीं क्लीं गौं वरमूर्र्तये नम: । 
ऊँ गं गणपतये नम:। 
10. हीं श्रीं क्लीं नमो भगवते गजाननाय । 
ऊँ वक्रतुण्डाय हुम् । 
11.ॐ विघ्ननाशाय नमः .
12. ॐ सुमुखाय नमः
13. ॐ गजकर्णकाय नमः
14. ॐ विनायकाय नमः
15. ॐ गणेश ऋणं छिन्धि वरेण्यं हुं नमः फट्॥
16. ॐ श्रीं ह्रीं क्लीं ग्लौं गं गणपतये वर वरद सर्वजनं मे वशमानय स्वाहा॥ एकदन्ताय विद्महे । वक्रतुण्डाय धीमहि । तन्नो दन्ती प्रचोदयात् ॥ ॐ शान्तिः शान्तिः शान्तिः ॥
#Ganesh-Mantra, #Ganpati-Mantra
गणेश मंत्र के फायदे - Benefits Of Ganesh Mantra
Chanting of Shri Ganesh Mantra removes each and every enemy of the devotees life and devotee gets focus and clarity

Very few know this, Devi Lakshmi is also considered as a mother, Devi Parvati allowed her to consider Ganesha as her son. When Lord Ganesh is placed in your temple with Devi Lakshmi, he gives prosperity, lots of happiness, Wealth and Good luck with Success.

Lord Ganesh is always worshiped at the start of of every pooja or auspicious occasion and this because chanting of Ganesh Mantra with full dedication is definitely considered very auspicious.

With Saraswati ji Ganesha grants educational success to us. He give intelligence, knowledge, reasoning powers and spirituality.

Ganesh Mantra are always helpful, peaceful, progressive and one lucky for everyone.
Ganpati Stotra in Hindi 2021
प्रणम्य शिरसा देवं गौरीपुत्रं विनायकम् 
भक्तावासं स्मरेनित्यम आयुष्कामार्थ सिध्दये ॥१॥ 
प्रथमं वक्रतुण्डं च एकदन्तं द्वितीयकम्
तृतीयं कृष्णपिङगाक्षं गजवक्त्रं चतुर्थकम ॥२॥
लम्बोदरं पञ्चमं च षष्ठं विकटमेव च
सप्तमं विघ्नराजेन्द्रं धुम्रवर्णं तथाषष्टम ॥३॥
नवमं भालचंद्रं च दशमं तु विनायकम् 
एकादशं गणपतिं द्वादशं तु गजाननम ॥४॥
द्वादशेतानि नामानि त्रिसंध्यं य: पठेन्नर: 
न च विघ्नभयं तस्य सर्वसिध्दीकर प्रभो ॥५॥
विद्यार्थी लभते विद्यां धनार्थी लभते धनम् 
पुत्रार्थी लभते पुत्रान्मोक्षार्थी लभते गतिम ॥६॥
जपेद्गणपतिस्तोत्रं षडभिर्मासे फलं लभेत् 
संवत्सरेण सिध्दीं च लभते नात्र संशय: ॥७॥
अष्टभ्यो ब्राह्मणेभ्यश्च लिखित्वा य: समर्पयेत 
तस्य विद्या भवेत्सर्वा गणेशस्य प्रसादत: ॥८॥
इति श्रीनारदपुराणे संकटनाशनं नाम श्रीगणपतिस्तोत्रं संपूर्णम ||
Ganpati Mantra Image Hindi - Free Download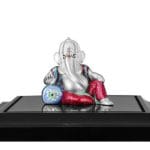 गणेश जी की आरती  हिंदी में  – जय गणेश, जय गणेश, जय गणेश देवा, माता जाकी पार्वती, पिता महादेव। Ganesh Ji Ki Aarti or Ganpati ji Aarti by Anuradha Paudwal, pdf print (May  2020). Latest Shri Ganesh Bhagwan Ji ki Aarti (Great Aarti as per Hinduism to begin all auspicious work) with Ganesh Chalisa and Mantra. Jai Ganpati Bappa, Jai Ganesh! Jay ... Read more
Read More