गणेश जी की आरती  हिंदी में  – जय गणेश, जय गणेश, जय गणेश देवा, माता जाकी पार्वती, पिता महादेव। Ganesh Ji Ki Aarti or Ganpati ji Aarti by Anuradha Paudwal, pdf print (May  2020). Latest Shri Ganesh Bhagwan Ji ki Aarti (Great Aarti as per Hinduism to begin all auspicious work) with Ganesh Chalisa and Mantra. Jai Ganpati Bappa, Jai Ganesh! Jay Ganesh Jay Ganesh Jay Ganesh Deva..
इस पेज पे श्री गणेश जी की आरती (Ganesh bhagwan JI ki aarti) एवं चालीसा का वर्णन किया गया है. Jai Ganesh Jai Ganesh Jai Ganesh Deva..(जय गणेश जय गणेश जय गणेश देवा) – हर शुभ कार्य से पहले जब गणेश जी की आरती का गान होता है तो निश्चित ही हर कार्य मंगल मय हो जाता है.
Request – All Ganesh Devotees are requested to please share this page with all Hindus so that our aim to spread Hinduism and promote the worship of Hindu Gods can be fulfilled. We all believe in Hinduism and we all start all auspicious work with- remembrance of Lord Ganesh and other Hindu Gods, Lets share it with everyone on social media. Hanumanjichalisa.com is dedicated to Hindu Mythology and collection of all Bhajans, Mantras, Chalisa and Paths of Hindu Gods like Ganesh Ji, Ram, Hanuman, Vishnu, Shankar, Devis and Devtas.
Bhagwan Ganesh Ji ki Aarti - Jai Ganesh Jai Ganesh Jai Ganesh Deva..
Ganesh Aarti Lyrics by Anuradha Paudwal 
जय गणेश, जय गणेश, जय गणेश देवा।
माता जाकी पार्वती, पिता महादेवा।।
एकदंत, दयावन्त, चार भुजाधारी,
माथे सिन्दूर सोहे, मूस की सवारी।
पान चढ़े, फूल चढ़े और चढ़े मेवा,
लड्डुअन का भोग लगे, सन्त करें सेवा।। ..
जय गणेश, जय गणेश, जय गणेश, देवा।
माता जाकी पार्वती, पिता महादेवा।।
अंधन को आंख देत, कोढ़िन को काया,
बांझन को पुत्र देत, निर्धन को माया।
'सूर' श्याम शरण आए, सफल कीजे सेवा।।
जय गणेश जय गणेश जय गणेश देवा ..
माता जाकी पार्वती, पिता महादेवा।
दीनन की लाज रखो, शंभु सुतकारी।
कामना को पूर्ण करो जय बलिहारी।
Must Read- Ganesh, Hanuman Chalisa, Durga Chalisa, Laxmi Chalisa, Sai Chalisa, Vishnu Chalisa, Shani Chalisa, Shiv Chalisa, 
After Ganpati ji Aarti, Also Read - Ganesh Chalisa-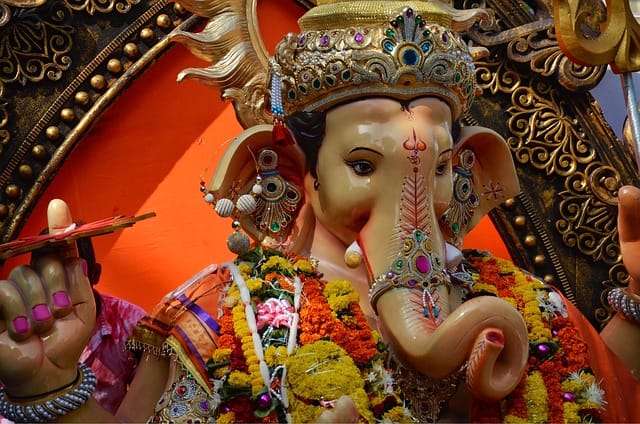 Shri Ganesh Bhagwan Ji Ki Aarti - Downloadable Image in Hindi -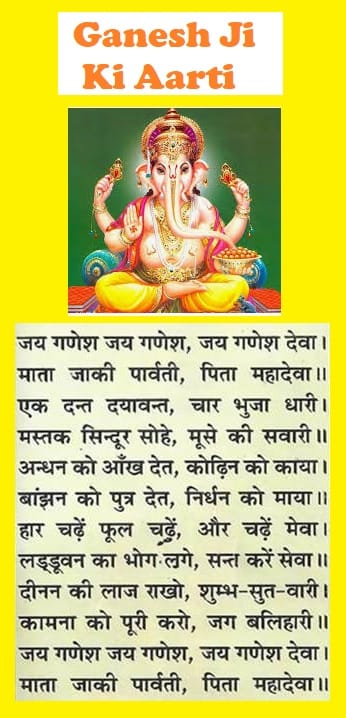 After Ganesh Aarti, Also see some powerful Ganesh Mantra in Hindi to Please Lord Ganpati
1. वक्रतुण्ड महाकाय सुर्यकोटि समप्रभ निर्विघ्नं कुरु मे देव सर्वकार्येषु सर्वदा .
2. ॐ एकदन्ताय विद्धमहे वक्रतुण्डाय धीमहि तन्नो दन्ति प्रचोदयात् .
3. ॐ लम्बोदराय नमः .
4. ऊँ गं गणपतये नम: .
5. ऊँ श्री गणेशाय नम: .
6. ऊँ नमो भगवते गजाननाय . 
ऊँ वक्रतुण्डाय हुम् .
7. ॐ नमो सिद्धि विनायकाय सर्व कार्य कर्त्रे सर्व विघ्न प्रशमनाय सर्व राज्य वश्यकरणाय सर्वजन सर्वस्त्री पुरुष आकर्षणाय श्रीं ॐ स्वाहा ॥
8. ऊँ हीं श्रीं क्लीं गौं ग: श्रीन्महागणधिपतये नम:। ऊँ । 
9. हीं श्रीं क्लीं गौं वरमूर्र्तये नम: । 
ऊँ गं गणपतये नम:। 
10. हीं श्रीं क्लीं नमो भगवते गजाननाय । 
ऊँ वक्रतुण्डाय हुम् । 
11.ॐ विघ्ननाशाय नमः .
12. ॐ सुमुखाय नमः
13. ॐ गजकर्णकाय नमः
14. ॐ विनायकाय नमः
15. ॐ गणेश ऋणं छिन्धि वरेण्यं हुं नमः फट्॥
16. ॐ श्रीं ह्रीं क्लीं ग्लौं गं गणपतये वर वरद सर्वजनं मे वशमानय स्वाहा॥ एकदन्ताय विद्महे । वक्रतुण्डाय धीमहि । तन्नो दन्ती प्रचोदयात् ॥ ॐ शान्तिः शान्तिः शान्तिः ॥
Also Read after Bhagwan Shri Ganesh ji ki aarti -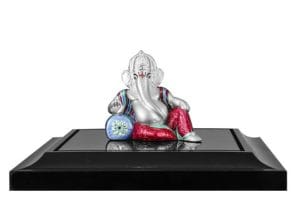 गणेश जी की आरती  हिंदी में  – जय गणेश, जय गणेश, जय गणेश देवा, माता जाकी पार्वती, पिता महादेव। Ganesh Ji Ki Aarti or Ganpati ji Aarti by Anuradha Paudwal, pdf print (May  2020). Latest Shri Ganesh Bhagwan Ji ki Aarti (Great Aarti as per Hinduism to begin all auspicious work) with Ganesh Chalisa and Mantra. Jai Ganpati Bappa, Jai Ganesh! Jay ... Read more
Read More