Beautiful- Lotus Temple in Delhi (दिल्ली का कमल मंदिर – लोटस टेम्पल). Why it is called Lotus Temple? Here is a detailed guide about the history, timings, nearby places, tour and sightseeing, hotels and Map. Lotus temple is known for its beautiful flower-like shape which looks exactly like – Lotus. This Lotus temple is one of the Baha-i's faith or Baha'ism which beliefs in unity and equality for everyone. Flower of Lotus was chosen and considered as the common symbol to religions like Hinduism, Buddhism, Islam and Jainism by its architect – Furiburz Sabha.(Ref). Today, the Lotus temple is one of the main tourist spot and center attractions of tourism in Delhi.
Lotus temple (House of Worship) is open to all regardless of religion.
Note – It is closed on Monday every week.
Architecture of Lotus Temple-Delhi
Lotus temple as we all know is famous for its Lotus like shape. A specialty of Lotus Temple is that it looks exactly like lotus flower. It is made up of 27 free-standing marble petals arranged in clusters of three and forms total of nine sides. There are total 9 doors in the Lotus temple connected to Central Hall. Central Hall of Lotus temple is huge – approx 40 meters in height with a capacity of approx 2000 people. It is also called as "The House of Worship" which is made up White Marble. It has 9 surrounding ponds and lush green gardens with total land bank of approx 25-26 acres. Lotus temple was built in 1986.
Lotus Temple, Delhi's Location, Distance and Map
This beautiful temple is near to Kalkaji Mandir, Nehru Place or East of Kailash in South Delhi. Nearest Metro station from Lotus temple is Kalkaji Metro station. One more Metro station – East of Kailash is also there in close proximity. Exact location of Lotus temple can be seen in Map below-
Timings of Lotus Temple Delhi
Lotus temple in delhi opens at 9 am and closes at 5.30 pm everyday. Entry to Lotus temple is free and you can visit it on Tuesday to Sunday. During Summers, the time is extended till 7.30 pm as well.
Here in Lotus temple, one can find and chant various books related to multiple religions.
How to reach Lotus temple?
You can easily reach Lotus temple as it is in Delhi and is connected with Airport of Indian Capital – Delhi. It is connected of Delhi Metro and nearest metro station is – Kalkaji Metro station and East of Kailash Metro station.
For all flights available for Lotus Temple, Delhi, check here
By bus, the nearest ISBT is Kashmere Gate, Delhi.
Railway stations of NDLS – New Delhi Railway station and Old Delhi Railway station are well connected with Metro, auto, and taxis for Lotus Temple.
Specialty of Lotus Temple Delhi
It looks like Lotus, open to all religions and has beautiful gardens, ponds and overall architecture.
Other Popular Temples and Sight Seeing in Delhi
Other popular temples in delhi are Chattarpur Mandir, Birla Mandir, Jhandewalan Mandir, Kalkaji Mandir, ISKON (East of Kailash) Dwarka mandir, AksharDham Mandir, Preet vihar mandir, Chandni chowk mandir – Jain Mandir, Janakpuri mandir, Rohini mandir.
See the videos of Lotus Temple temple in Youtube – HERE
Detailed guide about other famous temples of India.
5 Beautiful Images of Lotus Temple Delhi (You will not find elsewhere)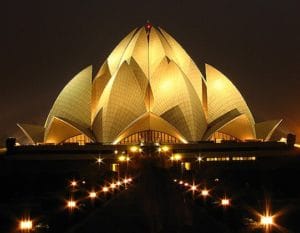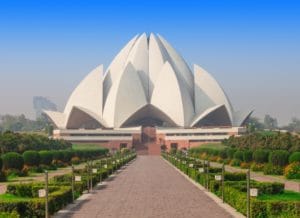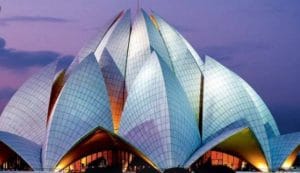 Near By Hotels, Resorts and Restaurants
Check all the details about Hotels and Resorts nearby Lotus Temple – Here
Also, see video on Youtube
More Temples
Read these articles –
All images belong to the temple and temple and our trust is the owner of the pics, we have only collated them for information and knowledge purpose.