Prem Mandir Vrindavan (प्रेम मंदिर, वृन्दावन), Find out why it is one of the most visited and beautiful temple of Vrindavan. Informative article on Prem Mandir of Vrindavan – telling about its beauty, lights, Timings, Images and peaceful environment. Prem Mandir is a huge temple that was formed by Jagadguru Shri Kripaluji Maharaj in the year 2001. Also, known as "Temple of God's Love and affection", Prem Mandir is devoted to Radha Krishna and also "Sita Ram". 
Situated in Vrindavan, the heavenly city in the area of Mathura in Uttar Pradesh, Prem Mandir is encompassed with devotion and quietness. This recently built Mandir (Temple) is the most lovely in the whole Brij zone.
Made out of white marble and decorated with extremely mind-boggling carvings, this mandir is likewise well known for its engineering magnificence. Artwork related to Krishna's life adds to the beauty of Prem Mandir.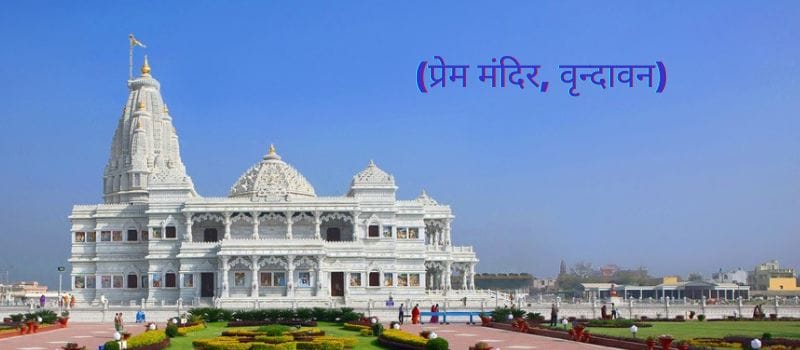 The lighting of the sanctuary further extols its terrific look, particularly during the night.
What is the History of Prem Mandir?
History of Prem Mandir – Kripalu ji Maharaj laid the Inauguration's foundation stone on 14 January 2001. Approx 1000 workers took nearly 11 years and expenditure of about 150 crores to build this temple. It became accessible to the public on 17th Feb 2012. 
Prem Mandir Vrindavan is built on land bank of approx 55 Acres on the edges of Vrindavan (Mathura, Uttar Pradesh), and is devoted to Lord Radha Krishna and Sita Ram. Idols of Radha Krishna are on the primary level and Sita Ram on the second floor. Its structure is built of marble and was set up by the fifth Jagadguru, Kripalu Maharaj.
You will find the artwork related to "Krishna Lela" – portraying significant occasions encompassing the Lord's presence in Vrindavan.
One of the architectural beauty is A 73,000 square feet, columnless, arch-molded Satsang corridor is being built on the campus which can easily accommodate 20000-25000 people at once.
Prem Mandir, Vrindavan is full of lovely gardens and wellsprings, the complex shows the artwork of four leelas of Shri Krishna – Very Famous Kaliya Naag Leega, then Jhulan Leela, Life-saving Govardhan Leela and well known Raas Leela. (Ref)
Prem Mandir Vrindavan Timings, Night Show Timings
Details about the timings of Prem Mandir including the beautiful night show can be seen and downloaded from the image below. The temple is open every day starting 5:30 AM till 8:30 PM. Other details can be seen from image below.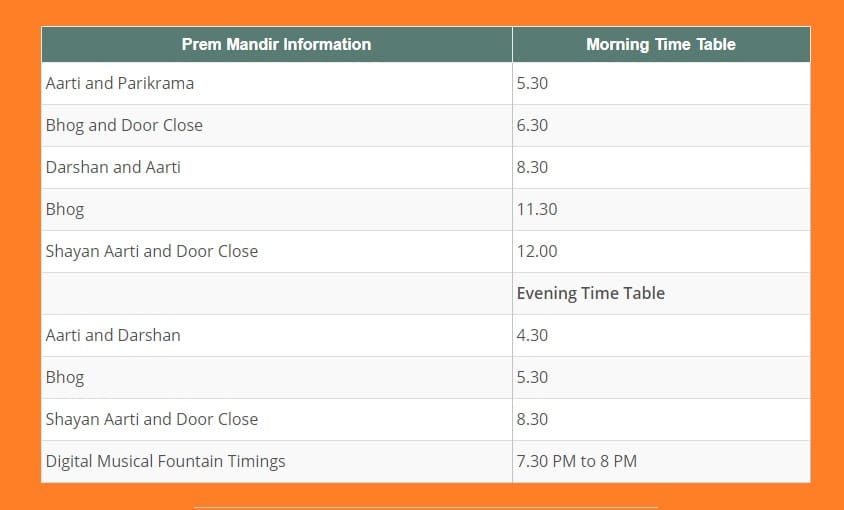 Prem Mandir at Night – Rare and beautiful image
See the image below showing – "Prem Mandir at Night". Its really looks like a palace with beautiful lighting.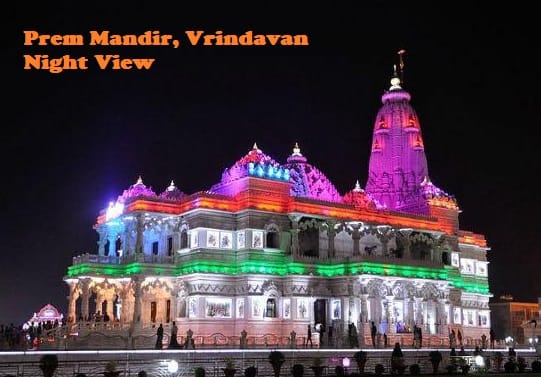 Map of Prem Mandir, Vrindavan, How to reach!
How to Reach Vrindavan's Prem Mandir?
Vrindavan is easily approachable by Air, Road and Train
Road- From Agra or Delhi, number of buses and private taxis are available
By Air: Agra is the nearest airport to Vrindavan, Approx 80 kilometers away from the temple. 
By Train, Rail: Nearest railway station is Mathura. Approx 8 kilometers away from Prem Mandir. Local taxi, three wheelers can be easily hired from the station.
Best time to visit Prem Temple (prem mandir vrindavan)?
Although you can visit the temple at any point of time during the year, However Janmashtmi and Holi is the best known festival celebrated here. Winters are the best season to enjoy the beauty of the temple.
Prem Mandir's Architecture
It is really a beautiful temple – Spread approx 54 acres of land bank and situated on the edges of Vrindavan, Prem Mandir is built in the Rajasthani Somnath Gujarati architectural style. Structure of Prem Mandir, Vrindavan has been constructed using highest quality Italian marble. It follows the design and structure based on ancient Indian art and architecture'.
Nearly 125 feet tall structure which is close to 122 feet long and 115 feet wide makes it a huge temple in India. Great wood work including beautifully carved doors and windows. Excellent flooring including the use of semi precious stones.
You will find beautiful gardens, parks and Musical Fountains.
Beautiful chandeliers adds to the overall structure and beauty of the temple. From the even till the night, the temple's colour changing lights attracts everyone who has visited Vrindavan.
First floor is dedicated to Radha Krishna while second floor has spectacular idol of Sita-Ram.
One of the architectural beauty is A 73,000 square feet, column less, arch molded Satsang corridor is being built in the campus which can easily accommodate 20000-25000 people at once
Also, the artwork depicting the life of Krishna – Krishna Leela spread all over the temple with the use of beautiful colors.
Beautiful Images of Prem Mandir (You will not find else where)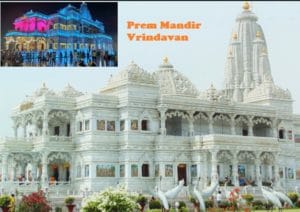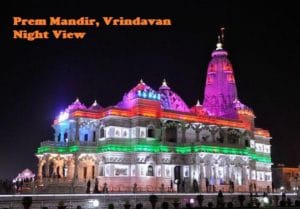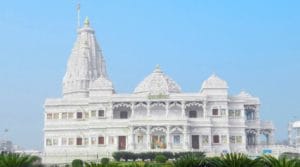 Video of Prem Mandir Vrindavan showing day and night view
Sight Seeing and More Places in Vrindavan
Banke Bihari Temple
ISKON Temple, Vrindavan
Katyayani
Ranganath Temple
Radha Raman Temple
Neem Karoli Baba Temple
Pagal Baba Temple
Exclusive video of Prem Mandir can be seen – here
Popular Budget Hotels and Resorts Near Prem Mandir Vrindavan
As per the details, you can book hotels and resorts nearby Prem Mandir Vrindadavan from here
Sarovar Portico
Hotel Krishnam
Hotel Radhe Krishna Residency
MVT Guest House and Restaurant
Brij View
Hotel Sri Radha Nikunj Vrindavan
Ranganath Temple
Radha Raman Temple
Brij Bhoomi Resort
Also see video at Youtube
More Temples
Read these articles –
All images belong to the temple and is trust is the owner of the pics, we have only collated them for information and knowledge purpose.