माँ वैष्णो देवी हिन्दू मंदिर गाइड -Vaishno Devi Mandir or Temple complete details for first time visitors (वैष्णो देवी मंदिर) in 2020. Maa Vaishno Devi Mandir is dedicated to Hindu Goddess Maa Vaishno , also known as Mata Rani – Mata Adi Shakti/Adi Parashakti. In Hindus, word Maa means mother and Goddess is mother of all. Maa Vaishno Devi temple is situated in Trikuta Mountains of Katra (Jammu and Kashmir, India). This is a detailed guide about the history, timings, nearby places, tour, Helicopter booking details and sighseeing, hotels and Map. Official website – www.maavaishnodevi.org. Buy Vaishno Devi Idol Here.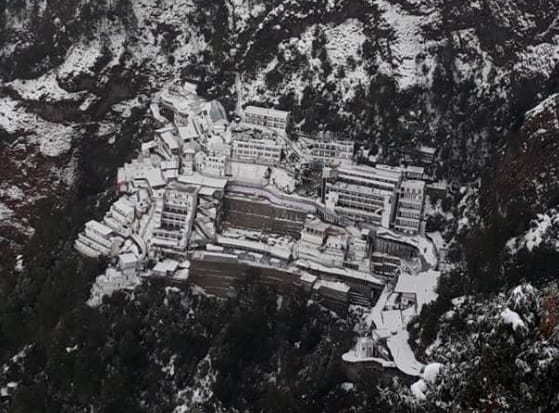 Popular story about temple History of Vaishno Devi Mandir (Temple)
As per Hindu vedic mythology and beliefs the existence of Maa Vaishno Devi came in "Treta Yuga". It is believed as per Hindus that at that time when Gods were planning to relieve the earth from Rakshas or Devils / Demons, Goddess Vaishnavi was created. Goddess Vaishnavi who is the main deity of Vaishno Devi Mandir is combined form of energies by Mahakali (Uma), Maha Saraswati (Vaani) and Maa Laxmi (Rema).
As decided, she destroyed all the demons (Rakshas) and to keep the planet safe forever, she was requested to stay back. She agreed and chose to reincarnate.  Vaishnavi since her childhood was the great devotee of Lord Vishnu and in her adult hood she starting praying Lord Vishnu to get him as her husband. Years passed and pleased with her devotion,  Vishnu appeared as Rama in front of her. Rama informed her that he is already married to Sita who is now abducted by Ravana (Lanka Pati Ravan, on of the Devil or Rakshas). Still seeing her devotion, Rama promised that some day he will definitely return and if Vaishnavi will recognise him, he will marry her.
Lord Rama after winning Lanka, visited her as a old man and requested Vaishnavi to be his wife.  Vaishnavi refused seeing the Old man's age and looks. She failed to recognize Vishnu or Rama. But still her devotion towards Vishnu was genuine and hence Lord Rama gave her one more chance, He granted her the boon that in his 10th incarnation (Kalki Avatar) during kaliyuga, he will surely marry her. She was requested wait for him in Trikuta mountains till then. For her protection, Rama offered her the troop of Monkeys and left.
Vaishnavi continued to spend years in meditation but one day Bhairon Nath visited her and was stupefied by her beauty. He started following Vaishnavi and to escape from him, Vaishnavi hide herself in one of the cave there.
Bhairon somehow found Vaishnavi and to protect herself, Vaishnavi assumed the the form of "Maa Kaali" and severed Bhairon's head. Realising the mistake, Bhairon apologised and requested her to forgive him. Kali returned to original form of Vaishnavi, forgiven Bhairon and allowed him to stay there as her guardian.Vaishnavi lateron to wait for Vishnu's 10th Kalki avatar, decided to assume the form of three rocks- MahaSaraswati, MahaLakshmi and Mahakali. Now it is popularly known as – Vaishno Devi Mandir.
Note- You visit to Vaishno Devi Mandir is incomplete without the visit of Bhairon Mandir.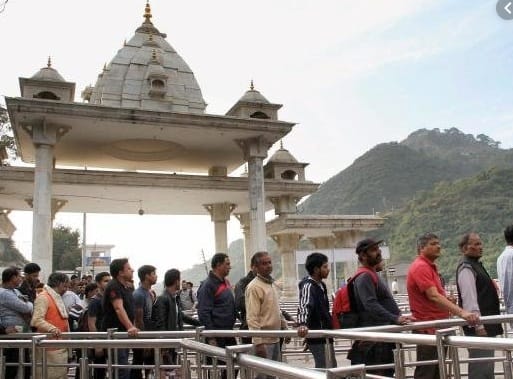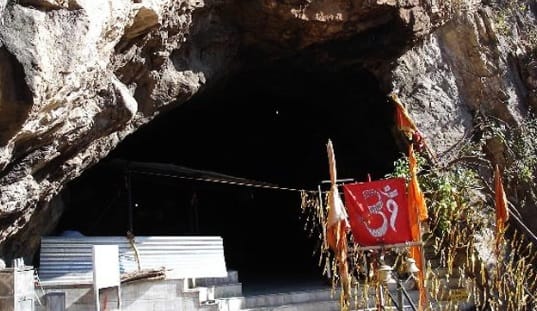 What is Location of Vaishno Devi Mandir? Distance and Map
Vaishno Devi Mandir (Bhavan) is located in Katra (Railway station). There is a walking track of approx 13 kms. Those who cannot walk this much can take Helicopter or hire horse etc. 
Katra is well connected through train and road transport. See the map below – 
What are the timings, entry fee of Vaishno Devi Mandir?
Entry Fee – There is no Entry Fee, However there is slip mandatory to visit the temple and can be collected for various counters and online too.
Timings of Vaishno Devi Mandir: Visiting Hours – 5:00 AM – 12:00 PM – 4:00 PM – 9:00 PM 
What is the best time to visit Maa Vaishno Devi Temple?
Vaishno Devi Mandir you can visit anytime during the year. December and January you may find snow there and hence can be a bit tough for elderly and kids. Festivals like Chaitra and sharad Ashwin witnesses huge crowd.
How to do Vaishno Devi Helicopter Booking?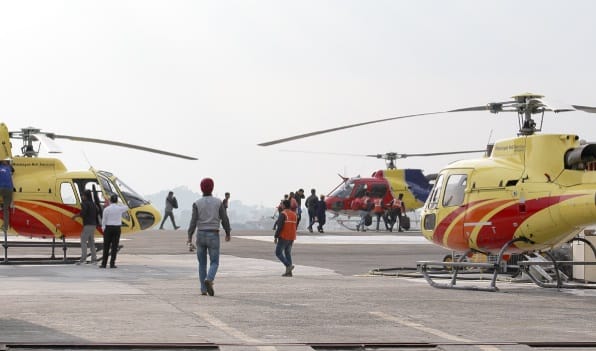 Maa Vaishno Devi Darshan by Helicopter. Heli services can be availed by everyone and its and awesome experience. Those who cannot cover the 13-14 kilometers track by foot can avail the Heli services which start from Katra. 
Helicopter will then drop you at Sanjhichatt. 
For Offline counter booking- Important instructions for booking from Heli-Ticket Counter – 
1. Ensure you have -Yatra Registration Slip.
2. Carry Id ID Proof for all passengers in order to get the tickets booked.
3. Also carry the Proof of travel or tickets etc of – Air/Train/Bus/Taxi.
4. Please do not avail the services of thirdparty brokers or middlemen.
About the rates – Check the current pricing here– one side Rs.1045/- + Taxes per person.)
Instructions for booking- Online Heli ticket :-
Incase you want to book the Heli tickets in advance, the services are available by the trust, visit the official page here
Register as New User – here (New Devotee sign up)

You need to register yourself- enter the username and password.

Once the registration is successful, close all tabs and reopen the page again.

Enter your credentials like user name and password.

Select -Helicopter Services and enter the passenger details, travel date and all required information.

Click on payment gateway link and process the online payment.

After your booking is successful, printout the page or take the snapshot.

 Official email id for correspondence- [email protected]
Note – You can book 60 days in Advance from 10:00 AM everyday before journey. Per ride Max 05 helicopter seats can be booked per user and per Debit/Credit card in a calendar month

Other Popular Temples to visit and Sight Seeing around Vaishno Devi Mandir

You can visit other popular temples and places after visiting Maa Vaishno Devi Mandir which are as follows –
Bhairav Nath Temple
Ardh Kuwari Temple, Vaishno Devi
Market at Katra
Purmandal Temple
Geeta Mandir, Katra
Panchbakhtar temple
Laxmi Narayan temple
See the videos of Vaishno Devi in Youtube – HERE
Detailed guide about other famous temples of India.
How to take Vaishno Devi Ropeway ? Details and images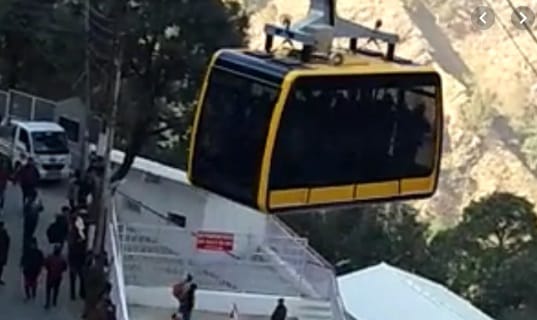 Recently a Ropeway is also started in Vaishno Devi which covers almost 1 hr journey to Bhairon Mandir in just 5 minute. Charges for this ropeway service are just Rs. 100 per person. Bharon Mandir is at steep height from bhawan and not every one can climb it. So this service is recently started with investment of over 100 crores and a Swiss company is engaged for smooth operations.
Tickets can be booked over the counter from Bhawan itself.
Near By Hotels, Resorts and Restaurants
More Temples to Visit after Vaishno Devi Temple
13 Interesting facts about Vaishno Devi (Hindu Temple)
Here are some of the interesting facts about Vaishno Devi that will make you want to visit the Shrine:
As per Hindu belief- Mata Vaishno, (Trikuta) observed the 'Navratra' Vrat and prayed for the victory of Lord Rama. 
Lord Rama blessed her that she will be now be recognised as – Maa Vaishno Devi. Vaishnavi (Trikuta) is now Mata Vaishno Devi who attained immortality.
Bhairo Nath was sent by Gorakhnath (A Mahayogi), who chased Mata Vaishno Devi to marry him. 
An Ashram was constructed on foothills foothills of Trikuta, as per the instructions by Vishnu (Lord Rama) as Rama promised Maa Vaishno that they will live after getting married in the Kaliyug.
Maa Vaishno Devi left her original form and converted her into a  rock in order to continue uninterrupted meditation till Lord Vishnu returns in Kalyuga as Kalki. 
How Vaishno Devi Temple was found? An interesting story suggests that that it was discovered byPandit Sridhar. He was a poor sage. He once saw Mata Vaishno Devi in his dreams who indicated him the presence of the temple. Sridhar started finding it and during this journey, he regularly saw Vaishno Devi in his dream to guide him about the route.
These caves of Mata Vaishno Devi Temple are about million year old. 
As per Mahabharata, Arjuna meditated and upon the Goddess to pray for victory in the great battle of Kurukshetra. Arjuna mentioned Maa Vaishno Devi as "Jambookatak Chityaishu Nityam Sannihilaye", means "the one who resides in the temple permanently which is located in the mountain in Jamboo". Jamboo as per some scholars refer to Jammu.
Late Sikh Guru, Shri Guru Gobind Singh Ji himself visited Vaishno Devi. 
Temple of Vaishno Devi has three main caves. Only two caves are kept open for the people to visit. Whenever there are less than 10000 pilgrims for a particular period, the doors to the main cave is opened.
This cave as per Hindu mythology, safely preserves the body of Bhairo Nath. 
Hindus believe that  that a stream of water which flows through the cave is actually a pious rever – Ganga.
At Ardhkuwari a separate cave is situated- called as GarbhJun. As per one interesting story, this separate cave is the place where Maa Vaishno Devi for 9 months when BhairoNath was chasing her. Maa Vaishno during this period positioned herself in the shape of an unborn child in his/her mother's womb. Hindus believes that someone who enter Garbhjun cave once in his lifetime acquire Moksha – "freedom from entering the womb again and again". 
Mehandipur Balaji Mandir, (मेहंदीपुर बालाजी मंदिर) a famous Hindu temple which is dedicated to Lord Hanuman (Balaji Maharaj)in Rajasthan. This famous Balaji temple is in Dausa district. Hanumanji is recognised as Balaji in various states of India. Balaji is just another name of Hanuman Ji.  As per Hinduism, if someone is suffering from the effects of ... Read more
Read More
All images belongs to temple and temple and is trust is the owner of the pics, we have only collated them for information and knowledge purpose.