Baba – Neem Karoli Baba (नीम करौली बाबा) (Great Indian Saint) who is also recognised as Neeb Karori Baba ( नीब करौरी बाबा) was a great devoteee (Bhakt) of Lord Hanuman. Babaji is known everywhere, not only in India, Infact everywhere in the world, be it USA or UK. Even Steve Jobs was the devotee of Neem Karoli Baba. Spritual Gurus like Ram Dass or Bhagwan Dass also considered him as their Guru.
Some of the Popular Name – Lakshman Das (Laxman Das), MaharajJI, Handi wala Baba, Tikonia wala baba and Chamatkari Baba.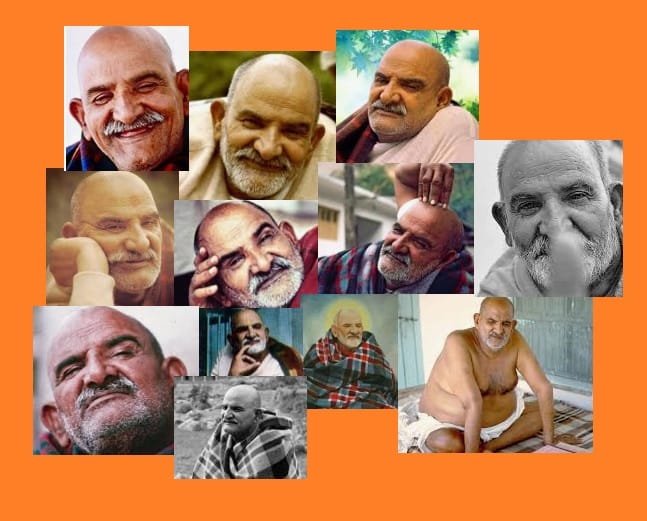 Ashrams of Neem Karoli Baba
Ashrams of Baba Neem Karoli are in Kainchi (Near Nainital, Uttarakhand), Lucknow (UP) Vrindavan, Rishikesh(Uttarakhand), Shimla (H.P.), Neem Karoli village(Farrukhabad), Bhumiadhar, Hanumangarhi, New Delhi in India and in Taos, New Mexico. Neem Karoli Baba's followers and devotees are everywhere now and can visit the above mentioned Ashrams.
Details about how to reach at Neem Karoli Baba Ashram can be seen here.
Birth and Initial Life of Baba Neem Karoli Ji Maharaj
It is believed that he was born around 1900 in UP. His Village was Akbarpur (Distt Firozabad). His father name was Durga Prasad Sharma. 
Neem Karoli Baba married at the age of 11. In his family, there were two sons and a daughter.
He was a great devotee of Lord Hanuman and follower of Hinduism.
Vrindavan and Kainchi were the two Ashram which were built in front of him. Post his death now, there are approx over 100 temples.
Video Darshan of Neem Karoli Baba (Neeb Karoli Baba)
Map of Kainchi Dham Temple
Why he was named as Neem Karoli Baba?
Neem Karoli Baba or Sadhu from Neem Karoli (Neeb Karoli) –  Interesting story behind this goes like – During the Late twenties or may be early thirties of Maharaj JI, for several days since no one gave him any food to eat. Hungry Babaji board a train for the nearest city. Conductor or ticket checker saw that a Sadhu is sitting in firstclass without ticket. He then pulled emergency brake instantly to stop the train. Maharaj-ji was unceremoniously asked to put off that train. 
Once the brakes were applied, The train had stopped near the village of Neeb Karori. It was the village where Maharaj-Ji had been living. He was asked to leave the train and later Maharaj-ji sat down under the shade of a tree.
Conductor then blew his whistle for train to move, but the train didn't move. All efforts like calling another engine etc were useless. 
A Local local magistrate suggested to the officials to bring young sadhu back in the train. Officials however thought it to be a superstition but they were very frustrated too because train was just not moving.
At last, passengers and officials approached Maharaj-ji and offered food and sweets to Him. Officials requested Maharaj Ji to board the train again which later, Babaji denied.
He put across two demands or conditions which were- a) Build Railway station in the village of Neeb Karori as the villagers had to walk many kilometers to catch the trains) and b) the departments must Going forward start treating sadhus better. Officials happily promised to fulfill everything within in their powers.
Maharaj-ji finally re-boarded the train. Train finally started and moved ahead. Maharaj-ji noticed that a train station was built at Neeb Karori and all sadhus started getting more respect.
Teachings of Neem Karoli Baba
Sab EK which means all is one. 
Love everyone and forgive everyone.
Leave you anger and frustration behind.
Bhakti 
How did Neem Karoli Baba died? When did he die?
As per Ref – Neem Karoli Baba was died in year 1973. It was 11th September. He died in Vrindavan. He visited the Heart specialist at Agra due to chest pain. After this visit he was on the way to Kainchi Dham by train. At the time of death he was Vrindavan's Hospital. 
Babaji and his traveling companions had disembarked at Mathura railway station as Babaji began convulsing and hence requested being taken to Shri Dham Vrindavan. He was admitted in the emergency room at the hospital. Doctor tried to save his live by giving him injections and oxygen. As per the Doctors and Staff – he was in a diabetic coma however, his his pulse was fine that time. 
Baba Neeb Karoli pulled off Masks and BP monitor band etc saying – "Bekar." He then requested for Holy Ganga water. However it couldnt be arranged that time and hence Normal water was given. He then chanted -Jaya Jagadish Hare and after sometime his face became peaceful and painless. He was dead.
Samadhi of Neem Karoli Baba
Since he was died in Vrindavan, his "Samadhi shrine" was built within the Vrindavan ashram.  His few personal belongings were also kept there.
Did Steve Jobs Meet Neem Karoli Baba? Followers from Abroad
Steve Jobs and his friend Dan Kottke, were greatly impressed by Hinduism and Baba Neem Karoli and travelled to India in April 1974. However unfortunately when they arrived, they were informed that Babaji was died last September.

At the time of death, Steve Jobs kept Babaji's Photo under his pillow.

Julia Roberts was also influenced by Neem Karoli Baba. A picture of him drew Roberts to Hinduism.

Steve Jobs also influenced Mark Zuckerberg (founder of facebook) during Mark's tough and initial days to pay visit at – Kainchi Ashram.

Larry Brilliant took Larry Page (Google) and Jeffrey Skoll (eBay), on the pilgrimage. Later Brilliant started a foundation which was also funded by Steve Jobs.
Best Images of Baba Neem Karoli (Neeb Karoli Baba)
Facts and Miracles of Neem Karoli Baba
Maharajji was considered and recognised as Reincarnation or "Avatar" of Lord Hanuman by his devotees.
He was blessed with lots of Siddhis and Powers.
People saw him perform several miracles Like awakening of kundalini (Kundalini Jagruti) with a just a touch of finger in others
It was often believed that he appeared in two places at the same time
Devotees saw him healing the sick who were almost like dead.
He never allowed anyone to touch his feets, he always asked his devotees to touch the feets of Hanuman Ji instead.
Richard Albert wrote a book "Miracles of Love" on the life of Maharaj Ji.
Kainchi Dham was the favorite place of Baba Neeb Karoli Maharajji, He often visited this place during the summers.
15th June everyyear- there happens- "Bhandara" at Kainchi Dham for being its foundation day.
Read Miraculous story of Krishna Das Here.
Story of Dada Mukherjee here. 
Important Temples, Mantras, Chalisas etc as per Vedic Hinduism-
Mehandipur Balaji Mandir, (मेहंदीपुर बालाजी मंदिर) a famous Hindu temple which is dedicated to Lord Hanuman (Balaji Maharaj)in Rajasthan. This famous Balaji temple is in Dausa district. Hanumanji is recognised as Balaji in various states of India. Balaji is just another name of Hanuman Ji.  As per Hinduism, if someone is suffering from the effects of ... Read more
Read More